Welcome to St Stephen's Golf Society
A friendly Canterbury based society open to all golfers
Golf Society
With members from around the Canterbury and East Kent area, St Stephen's Golf Society was established in 2009. This friendly all inclusive group has now grown to over 30 members playing friendly 'Stableford' matches on golf courses all around the county of Kent and beyond.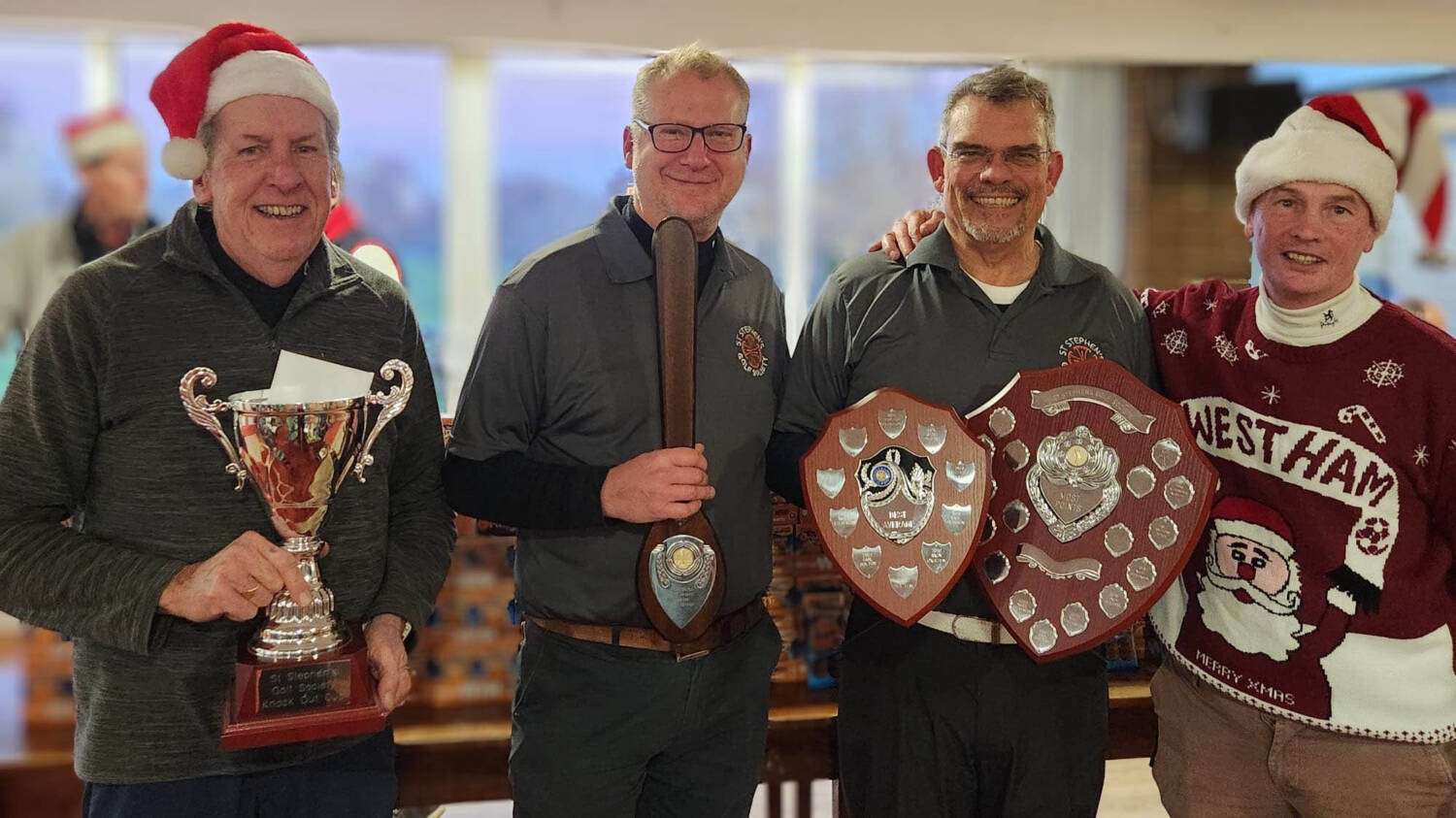 We play 3 yearly competitions inc: Highest points total, highest average (best of 7) and a cup competition* plus spot prizes for *nearest the pin and a *2's club fund. All results and event information are available on our news and results pages.
As special offers become available additional week day events are organised at courses in Kent, Surrey and Sussex.
No handicap required
Only £10 to join (£5 after July)
Match fee £40 (all courses inc food)
Annual points competition
Annual best average competition
Annual cup competition
Up to £100 worth of match and spot* prizes to be won on the day
Nigel Stevenson 367
Bob McDougal 349
Mick Bevan 331
Alan Mountain 327
Paul Sequenza 312
Ricky Woolley 302
Kingsley Williams 286
John Knight 280
Derek Bevan 254
Carl Bolton 245
Gareth Venables 244
Chris Snell 242
Simon Fowler 226
Pete Kenehen 160
Kevin Mullins 148
Mick Bedford 145
Pat Dawkins 125
Ryhys Hywel-Batty 121
Alix Mitchell 105
Rhodri Walters 102
Nigel Stevenson 37.00
Mick Bevan 35.66
Bob McDougall 35.50
Gareth Venables 35.50
Alan Mountain 35.33
Paul Sequenza 35.33
Kingsley Williams 35.00
John Knight 33.33
Carl Bolton 32.50
Derek Bevan 31.33
Ricky Woolley 30.66
Chris Snell 30.66
Simon Fowler 29.66
Final 2023 Leader-board
(most points)
Ian Horsham 339
Simon Fowler 335
Bob McDougall 333
Nigel Stevenson 326
Mick Bevan 296
Gareth Venables 264
Alan Mountain 253
Kevin Mullins 251
Paul Sequenza 251
Ricky Woolley 227
Mick Bedford 224
Carl Bolton 201
Chris Snell 198
John Knight 197
Kingsley Williams 195
Ryse Hywell-Batty 180
Howard Turbitt 147
Alix Mitchell 145
Derek Bevan 138
Sean Rutt 123
Tony Clark 133
Pat Dawkins 130
Pete Kenehan 108
Club Sponsors
see all sponsors
Past 'Shield' Winners
most points
runner up
best average
Cup [winner]
2023 Ian Horsham
Runner up: Simon Fowler
Best Ave: TBA
KO Cup: TBA
Player of the Year: TBA
2022 Nigel Stevenson
Runner up: Bob McDougall
Best Ave: Nigel Stevenson
KO Cup: Bob McDougall
Player of the Year: Ricky Woolley

2021 (Covid) Carl Bolton
Runner up: Paul Sequenza
Best Ave: Carl Bolton
KO Cup: Pete Kenehan
Player of the Year: Paul Sequenza
2020 (Covid): Nigel Stevenson
Runner up: Ricky Woolley
Best Ave: Carl Bolton
KO Cup: Pat Dawkins
2019: Andy Oxberry
Runner up: Alex McBeth
Best Ave: Andy Oxberry
KO Cup: Kevin Oxberry
2018: Nigel Stevenson
Runner up: Karl Robson
Best Ave: Karl Robson
KO Cup: Nigel Stevenson

2017: Antony Back
Runners up: Steve Winder
Best Ave: Antony Back
KO Cup: Steve Winder

2016: Alex McBeth
Runners up: Jason Robson
Best Ave: Jason Robson
2015: Will Scull
Runners up: Royston Gough
Best Ave: Royston Gough
Most points pre-2015
2014: Mark Delo
Runners up: Mark Burns/Nigel Stevenson
2013: Chris Adams
Runner up: Mark Burns
2012: Tim Epps
Runner up: Chris Gough
2011: Chris Gough
Runner up: Chris Adams
2010: Trevor Bailey
Runner up: Ady Gough
2009: John Bundock
Runner up: Mark Delo