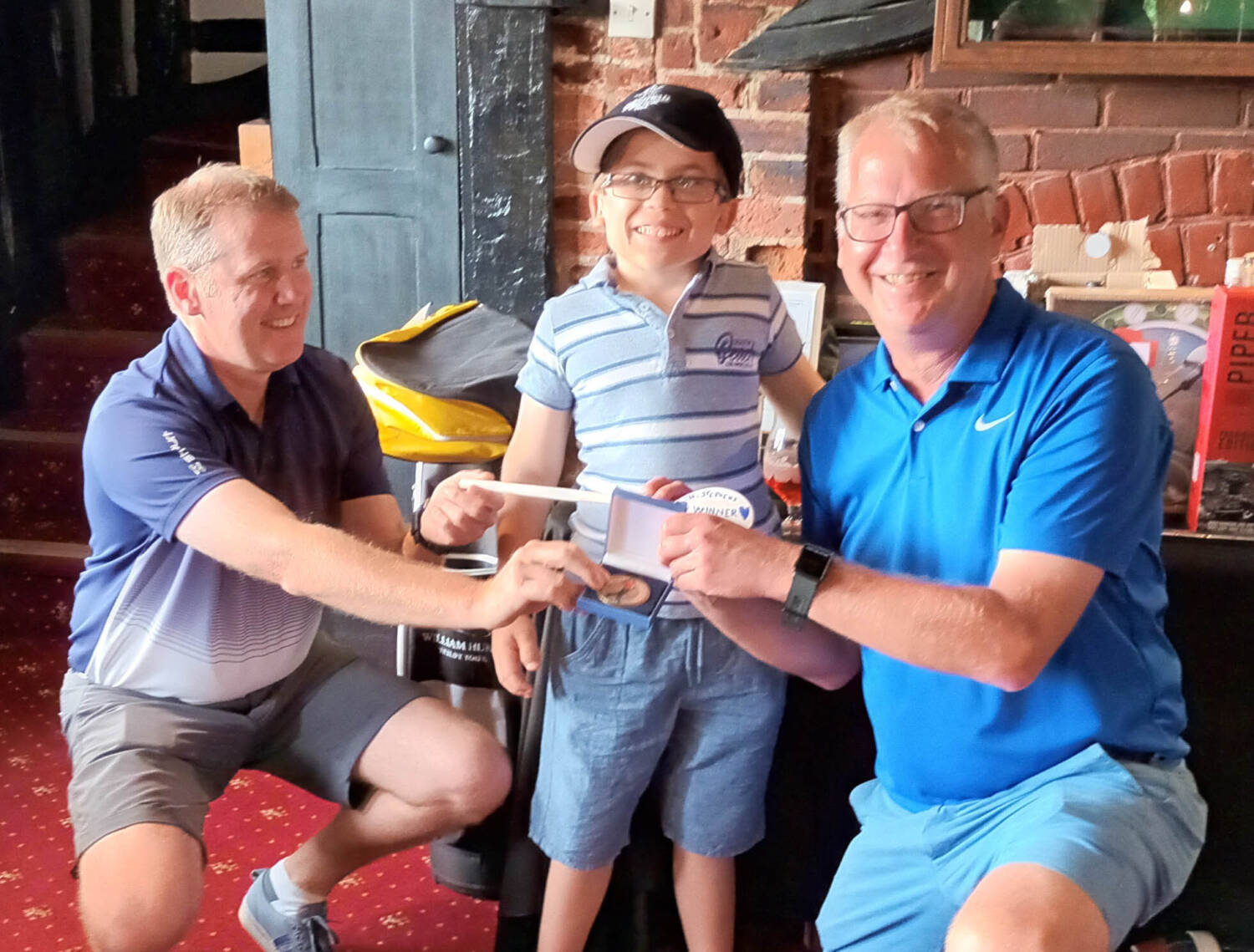 Wear Blue for Ethan Charity Society Day
The annual 'wear blue for Ethan' charity day has in the past been a major success for the society, the fourth event at Chestfield Golf Club was no different, with over 30 members and guests the St Stephen's Golf Society raised over £1,000 on the day with auction payments and donations still rolling in (total £2,000).
The golf competition was equally exciting: Skipper Paul Sequenza (21HC) just taking first place with 37 points from Gareth Venables (15HC) and Nigel Stevenson (18HC) both on 36 points, Venables taking 2nd on count-back.
Spot prizes were won by: Gareth Venables (longest drive – 371yds!), Andy Ransley nearest the pin approach, and nearest the pins for Paul Sequenza, Andy Ransley, Pete Kenehan and Karl Robson
Sponsor Carl Bolton from Treasured Friends sponsored an 'on the green for a fiver' competition on all par 3's donating £5 for any member making the green in one. Carl handed over a cheque for £100. The cup competitions continue: Ian Jackson beat Alan Mountain 3 and 2, Karl Robson beat Chris Snell who also claimed another wooden spoon for lowest score.
"We are very fortunate to be part of such a wonderfully kind and supportive golf society and we are forever indebted to these three and the other members. They have already booked in next years date!" Kevin Mullins
"On behalf of the MPS Society, I would like to thank you all for organising and running the MPS Golf day and raising £2000.00. This incredible amount of money will support 10 families with tailored support, advocacy and information. Your support could help families with an MPS or related diagnosis to live the lives they want, so thank you once again." Joss Keates, Society for Mucopolysaccharide Diseases
After the golf presentations, members raffle prizes and an auction for items supplied was followed by thanks from Kevin Mullin and son Ethan
Photos courtesy Kevin Mullins and Kevin Oxberry