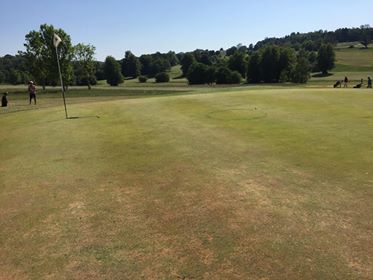 Looking down the leader board it was obvious to all members attending that the Covid 19 lock-down exposed some rusty golfers with only 6 returning Stableford scores of 30+ points. The front 9 holes proving to be the hardest with the wind and deep rough affecting playing conditions.
A consistent Kevin Oxberry (18hc) 37 points, 22 of those scored on the front 9, took the honors followed by new member Mick Bevan (22hc) 34 points and returning Invicta League player Karl Robson (10hc) 33 points. Each receives £40/£20/£10 vouchers for their next society match.
Nearest the pins were Pat Dawkins, Karl Robson and Kevin Mullins.
6 Treasured Friends KO cup matches were played with Pat Dawkins, Chris Dawkins, Ricky Woolley, Alex McBeth, Darren Holman and Andy Oxberry all going through to the next round. See updated KO cup draw
Special thanks to Tim (pro shop) all the staff at Broome Park who helped make the day possible. The Covid 19 restrictions complicated the t-times and score card collection but the day went very smoothly all thing considered.
Nearest the pins
TBA – the committee is in session on the results
11.36 Ian Jackson* 22 (v capt) v Pat Dawkins 29 (KO Cup round 2 Pat)
11.44 Chris Dawkins 24 v Pete Talbot* 23(v capt) (KO Cup round 2 Chris)
11.52 Simon Fowler* 28 (v capt) v Ricky Woolley 28 (KO Cup round 2 Ricky)
12.00 Alex McBeth* 28 (v capt) v Andy Stevenson 26 (KO Cup round 2 Alex)
12.08 Darren Holman 27 v Kevin Beasley* 24 (v capt) (KO Cup round 2 Darren)
12.16 Paul Sequenza 24 v Andy Oxberry* 30 (v capt) (KO Cup round 2 Andy)
12.24 Mark Vinter 29 and Kevin Oxberry* 37 (v capt)
12.32 Mick Bevan 34 and Kevin Mullins 31* (v capt)
12.40 Nigel Stevenson 30 and Karl Robson 33